Exclusive Jewels
Handmade in Ortigia
"Our workshop is alive with light,
elegance and exclusiveness."
In the heart of Ortigia, the island that is the historical centre of the city of Siracusa, Midolo Gioielli is the 'gold standard' for those in search of something unique.
Interpreting the culture of handmade Sicilian jewellery nurtured by master goldsmiths, sisters Stefania and Marilena Midolo bring Sicily's cultural heritage to life with their precious creations inspired by Greek and Roman symbolism. Gold, silver and gemstones, skilfully combined and transformed, express a powerful, evocative and constantly evolving style for women with a strong personality to wear in their everyday lives. Jewellery that embodies an important tradition, in which ancient and contemporary culture come together to form a harmonious whole.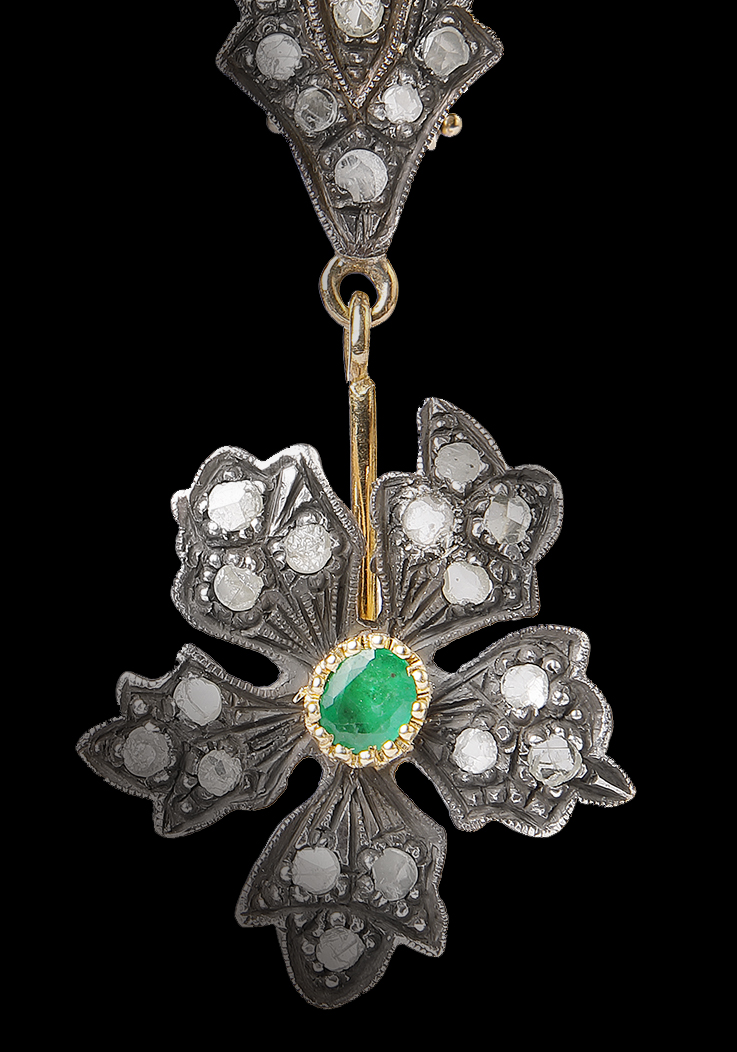 The materials used are 750 gold, 925 silver, and precious stones, mainly diamonds, sapphires, rubies and emeralds. The distinctive features of jewellery handmade in the ancient Sicilian style are a silver front with gold detailing and a gold back.
Large in size, the pieces are often "transformable" and can be used as either as broaches, pendants, rings or earrings. The recurring motifs are dragonflies, butterflies, bees and floral designs, or also geometrical patterns, mainly for rings and clasps.
The artisan's work requires careful study, technical knowledge and experience. Artistic creativity and sensibility spark absolutely unique and unrepeatable ideas for objects that fascinate with their beauty and the goldsmith's art.
After defining the shape, the front side is made from silver, with the main gemstones then laid out in gold bezel settings. Rose cut diamonds are then set across the entire surface. The next step is to define the detail with openwork and burin engraving.  The front is then burnished to make it darker and bring out the light reflected from the stones. The back part is made entirely of gold and reprises the design on the front. The two parts are then joined, with small gold rods keeping them at a slight distance to allow the light to penetrate and draw even more attention to the brilliance of the gemstones.
Ancient Sicilian style was considered rather 'plain' in the past, perhaps because of its dark colour and less showy appearance.
But there is nothing plain about ancient Sicilian style handmade jewellery, from the hand craftsmanship to the precious metals and gemstones.
Personalisation
and one-off pieces
GIA Gemological
Consulting
Jewellery and
gemological appraisals
In our workshop, gemologist Marilena Midolo, certified by the GIA (Gemological Institute of America – one of the world's leading research and training institutes in this field) will help you choose the gemstone that best suits your needs. With passion and expertise, she will take you on a journey to discover the fascinating world of precious and semi-precious stones, giving you all the information you need to make your purchase a uniquely special one.
Choosing precious jewellery is an important moment, and being able to rely on professionals, who can give you all the insights and background you need to make an informed decision when buying jewellery as a timeless reminder of emotions and affections, makes such an important experience even more exclusive and worry-free. You can be sure that whatever your investment, it will always be an excellent one.
Midolo Jewels Collections